Stats and the egg bike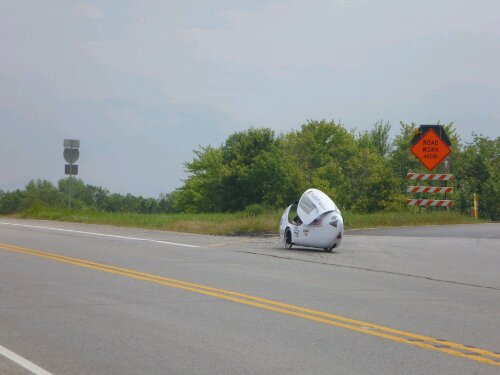 First some quick stats: I've been on the road for 9 days and have biked 587 miles, not counting today.  You can see more on my new Stats page, which will have interesting and useless numbers on it.
Now the egg bike.  As I was crossing over I-79 on PA 358 I encountered the above "bike."  We spoke briefly and I learned some more later on the internet.  The cyclist is Frans van der Merwe, and he is riding what he calls a pterovelo.  He is part of an approximately 50 person tour across the country called ROAM, or Roll Over America Velomobile Tour.  They started in Portland, OR on July 28 heading for Washington, DC. Velomobiles are basically recumbent bicycles with aerodynamic shells.  They're much more popular in Europe and this tour is designed to raise awareness for "human-powered" vehicles here.  Looks like I know what I'm replacing my car with.
You can find Frans' blog at http://pterovelo.blogspot.com/ or checkout his website http://www.pterovelo.com/.
More information on ROAM is at http://www.rolloveramerica.eu/.