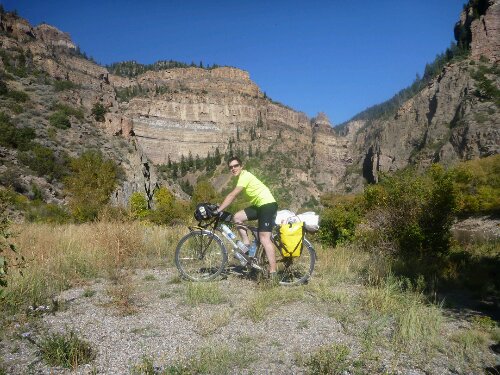 I finished biking through the Rocky Mountains on Sunday and I celebrated by visiting the Vapor Caves in Glenwood Springs.  So named because of the sulfurous hot springs nearby.  The caves are similar to a sauna but smellier. A good way to rest my muscles and the smelliness is supposed to have healing properties.  After steaming myself for about an hour I ventured out to find a campsite.  This turned out to be a more interesting process than I expected.
The first site I found was off a trail above the town.  There was already a tent setup, but no one was there.  It looked like someone had been living there, but it might have been abandoned. Around the tent were tiny liquor bottles and the exploded contents of a wallet.  Overall pretty sketchy so I decided to move along.  This process did use up a lot of my daylight so I ended up biking around at night until I found a nice campground west of town. Plus it had wifi and electricity,  two of my favorite things.
The following morning I biked about 90 miles on I-70 to Grand Junction, the last big city in Colorado.  I found that I prefer riding in a huge shoulder on the interstate compared to riding in no shoulder on a local highway.  Once I got into town I headed straight to the REI to fuel my outdoor gear addiction.  I picked up some tire levers because I lost mine somewhere, and more tube patches.  This turned out to be a good idea because I have gotten 3 flats in the last 24 hours.  One on I-70, one after I got in yesterday and another this morning. I hope I've filled my flat quota for the next couple weeks.
Fortunately last night I stayed with Keith and his girlfriend Rosa from Warmshowers.  They were very friendly and super helpful in planning the next part of my trip.  I'm now going to travel through southern Utah instead of going through Salt Lake City.  This should be much more scenic and will take me through some National Parks including Arches, Capitol Reef, and Bryce Canyon.  I also got to pick Keith's brain about my ride from SF to LA as he did a tour down the Pacific Coast, from Canada to the Mexican border.  The slideshow he made of his trip got me really excited about that last leg of my ride.  A big thanks to Keith and Rosa for the bed, dinner, and great conversation and advice.
In other news I gave up trying to update my map so instead I made a second one.  Enjoy!