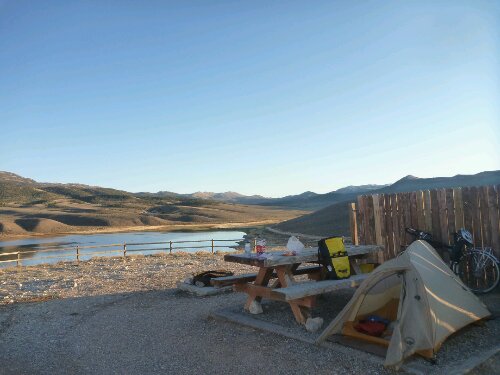 *dun nuh nuh nuh….dun nuh nah nah nuh….*
I made it to Eureka, NV yesterday.  I could have done the ride from Ely to Eureka in one day but decided to break it up by stopping at the Illipah Reservoir, about 40 miles from both towns.  That's my campsite above.  Fairly uneventful couple of days, though I did get some surprise rain yesterday.  It was supposed to be clear all week but all the mountain ranges make for some unpredictable weather.
Route 50 through Nevada is part of the Western Express, a bicycle route designed by the American Cycle Association.  As a result they get a lot of cyclists coming through.  The woman who runs the coffee shop I stopped in to warm up informed me that I had 9 days left before reaching San Francisco, based on other cyclists experinces. So its last leg of my trip, at least across the country.  I'll still have a week long ride down the coast to LA, but the end is near.