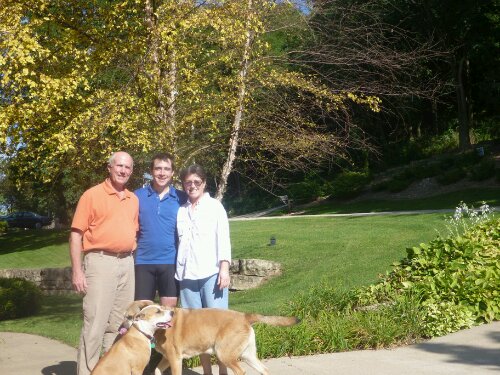 That's me with my Uncle Tom and Aunt Jane and their dogs Sadie and Jake.  The reason I was hauling so much ass (along with all rest of my gear) was to make it to them before Sunday when my uncle leaves on business.  My original plan for today was to bike approximately 100 miles to their house in the northwest corner of the state.  But then I realized, what was the point of putting myself through all that just so I could get here at 10pm, say hi, and then pass out.  I think my uncle tried to hint at that last night but was too polite to say it.  Although maybe he did say it and my brain was too scrambled by biking 133 miles to comprehend it. 
So instead I biked about 65 miles and they picked me up just south of Dixon, IL. (Fun fact: Birthplace of Ronald Reagan.)  They took me out to lunch and then we dropped my bike off at a cycle shop in Freeport.  I can handle basic maintenance, but I wanted them to give it a tune-up and make sure everything looked good.  I still have at least 2000 miles to go after all.  In addition to tuning up my bike I also got a tune-up on my body.  My uncle does Zentherapy, which is a system of body work which help to realign the various bits of the body.  He normally works with horseback riders; check out his website at zenandthehorse.com.
So did I cheat by not riding my bike the whole way there?  I'm not sure as their house is kind of out of the way, but even if I did I don't mind.  I got a chance to spend a great day with my aunt and uncle and its my journey, so there.