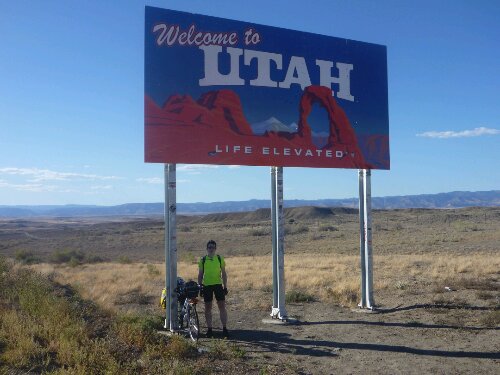 Other titles for this post were: A night's ride tale, In the heat of the night ride, Boogie night ride, and of course Night rider.
Yesterday was my favorite 100+ mile ride so far.  The first 70 or so miles really sucked, but the last 40 were amazing.  Let me start from the beginning.  I got a late start yesterday for a variety of reasons.  I waited till 10 for the REI to open, then ended up not getting anything.  Setting up the map took about 30 minutes, a lot of that just waiting on the computer.  I also had to write up yesterday's blog post twice because I lost the first version.
So overall I didn't hit the road till around noon.  This put me biking through the hottest part of the day.  I got another flat about 20 miles in, and I lost my headband somewhere along the way.  I didn't notice until I stopped for the above picture, though I think I took it off earlier and forgot to put it back on.  Another problem was that after Mack, CO there is a whole lotta nothing till Moab, about 80 miles away.   My new Camelback came in handy, but its no fun having to ration water.
I got off I-70 around sunset leaving me with about 45 miles to go. My original plan was to get close to Moab, UT, then wake up early, finish the ride into town, then explore Arches NP.  Instead I decided to go the whole way.  It was a really nice night out, with a warm breeze and clear skies.  It was also slightly downhill almost the whole way. 
The road is a designated scenic route, but because I was riding at night I didn't see a lot of detail.  What I did get was a ride surrounded by huge, pitch black shapes against the backdrop of a grey sky packed with stars.  It was a very tranquil setting.  I rode for about 3 hours and loved every minute of it.  I stopped at a campground near town around 11pm and am now looking forward to riding around Arches.