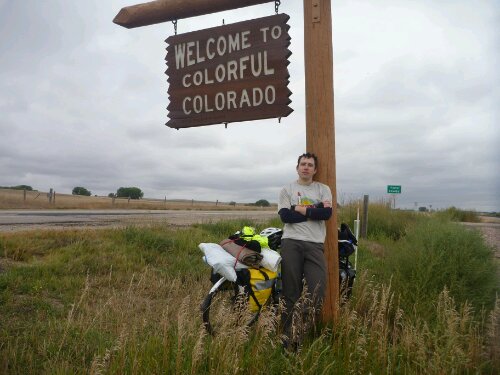 Finally made it into Colorado, hooray!  Not terribly colorful right now as you can see.  Actually pretty unpleasant.  About 10 miles after that picture was taken it began to rain and should continue to do so all day.  Add in the fact that the high today is in the mid 50s and it makes for a rather miserable outing.  There was a bit of a tailwind so I did make good time to Yuma, doing 71 miles in the aforementioned 4 hours.  And this is the first day like this since those first two days of non-stop rain.  Its actually not the ride I have a problem with, its when you finish riding and start getting cold with no good way to warm up, have to setup your tent in the rain, etc.  Fortunately I'll have family to stay with shortly, probably by Friday.
Before it got really gross out I was listening to another Radiolab podcast about time.  One of the things they talked about was how taking something very familiar like Beethoven's Ninth(or Justin Beiber) and stretching it out to take 24 hours completely changes how it sounds and feels.  I realised that's very similar to what I'm doing.  If you drove a car, even if it went the same exact route, it would feel very different.  An hour in the car is the same as a day on the bike for me.  And just like stretching music can cause you to notice things you wouldn't normally, so to does traveling by bicycle.  Such as long gradual hills which you ignore in a car or the changes in insect life.  I would actually like to drive across the country to see what my trip would look like in fast forward.
Just an example of the stuff you come up with with lots of time to think.