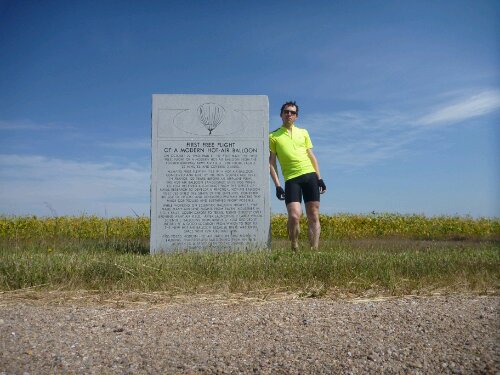 Not much to report, apart from finding the site of the first modern hot air balloon flight!  I'm currently in McCook, NE, about a day and a half ride from the Colorado state line.  Denver is 270 miles southwest and about half a mile up, as I'm at approximately 2,500ft.  I should be there by the end of the week.
Still taking it easy.  One of the reason's I was hesitant to go slow in the beginning was because when staying at campgrounds for $20-$25 a night it quickly gets expensive.  As I get further west I'm finding that many towns allow you to camp in the town park for free.  They have bathrooms, water, and most importantly they usually have electricity.  Electricity is my third most important limited resource after food and water.
Assuming nothing interesting happens in the next couple days I will I unveil my song parody parody.  Its pretty awesome if you ask me.