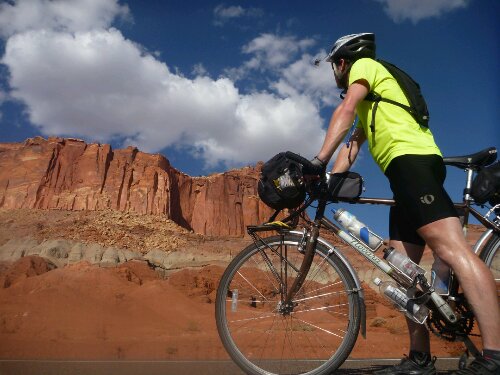 The last two days have been rough.  Friday had a 60 mile ride from Green River to Hanksville with nothing in between.  No towns, no gas stations, no water, no shade.  Lots of sun and hills though.  Wasn't even scenic.  It was made even worse by the fact that I got more flats that day than my entire first month on the road.  Four or five, I honestly lost count.  It was overall a sucktastic day with a capital FML. 
I think the biggest problem is my rear tire is a mere shadow of its former self.  So this morning I replaced it with the spare I've been carrying for 3000 miles.  No flats today, though I suspect slow leaks in both front and rear tires.  I'll know more in the morning.
Today was better.  I rode through Capitol Reef NP which has petroglyphs, cool rocks, and a Mormon schoolhouse.  Plus some other stuff, but I only saw what was on the main road.  It was still not an easy day being mostly uphill and 1300ft elevation gained in the last 11 miles.  But at least it was much prettier than yesterday.  I'm also staying with Lyman, another Warmshowers friend, who cooked a huge meal of pesto with chicken.  He is very friendly and apparently gets people staying weekly.  So a big thanks for putting up so many tired and hungry cyclists.