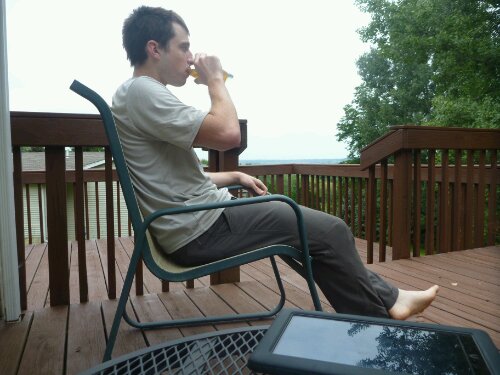 Still at my aunt and uncle's as you can see, resting and recovering.  I picked my bike up from the shop today.  New chain, new brakes, all cleaned up, and they secured my front rack to the frame a little better.  Apparently they objected to the zip ties I had securing it.  My body is also feeling better.  Still some sore muscles and funky fingers but ready to get back on the road.
I plan to leave here tomorrow and head in the direction of Denver,CO where my grandmother lives.  Its going to be a long ride though, another 1,000 miles and probably 2 more weeks.  My new stretch goal is to make it to the Pacific coast by my birthday, September 29th.  It'll be difficult, but is doable.  My other goal is to meet more complete strangers.
I have explained couch surfing to some of my friends.  Basically people offer up their place for travelers to crash.  I recently found out about a site called warmshowers.org which is the same idea but specifically for touring cyclists.  This has inspired me into looking into this as an option so I hope to stay on someone's couch(yard, futon, floor, etc.)  Hopefully I met some interesting people.
I tried to make a map of my journey so far, you can find it at gibbsonabike.com/map/.  If anyone knows a better way to do it please let me know.
Also I forgot to post the video I promised, my own double-rainbow experience which happened about 10 days ago in Titusville, PA.